2023 PHXDW Conference: UNITE
Join us in person the two-day PHXDW Conference at Phoenix Design Week 2023!
Phoenix Design Week is a week-long celebration of design organized by AIGA Arizona to unite our state's design community and provide a forum for sharing best practices, showcasing exceptional work and gaining inspiration.
The PHXDW Conference is the main event during Phoenix Design Week — a two-day industry conference for graphic designers, illustrators, writers, UI/UX designers, content managers, marketing professionals and people who work with them. Themed "UNITE" for 2023, we're celebrating this 15th annual PHXDW with a salute to designers throughout the 15 counties of our beautiful state.
This year, we're returning to the inspiring spaces of Phoenix Art Museum for two full days of creative jumpstarts, workshops and friendship. Please note that the auditoriums are smaller than in past years, so the ticket quantities are very limited — make sure to REGISTER NOW so you don't miss out!
DON'T BE A LATE BIRD! JUST LIKE RUSH CHARGES, TICKET PRICES INCREASE OCT 1st!
All of the keynote speakers and sessions are now available at phxdw.com.
Updates will be coming at you on social media (follow #phxdw), and directly in email, so be sure you're on the mailing list to get the latest! Continuing conference announcements for ticketholders will be sent via Eventbrite.
The two-day PHXDW Conference pass includes:
Access to all main stage keynote talks and educational breakout sessions presented by national and local design leaders
Two full days this year, on both Saturday, October 7 and Sunday, October 8
Free admission to the pre-conference Meet 'n' Greet in the lobby of the Museum on Friday, October 6.
Free gift poster
Please note that all other standalone Phoenix Design Week events from October 2-8, 2023 are NOT included in the conference ticket price. Most are usually free, but some may require additional registration fees. See the 2023 lineup here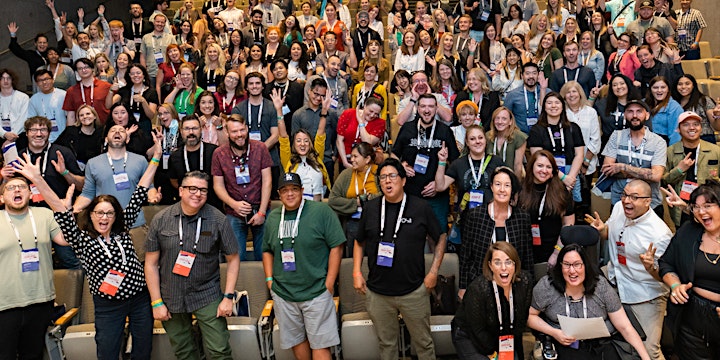 Ways to Save
Become an AIGA member and get perks too.
AIGA members receive special discounted pricing on all PHXDW tickets, and we have some secret bonuses planned at the conference especially for members.
And right now it's a particularly good time to join, because AIGA is running a year-end special — sign up for an annual 2024 membership and get the rest of 2023 free! Which means you can become a member, get up to 16 months on what's normally a 12-month membership, AND get a reduced price PHXDW Member ticket, too. Do the math and check it out!
Learn more about membership options and join at http://www.aiga.org/join/, then return to this site and enter your AIGA member number and expiration date to qualify for Member ticket pricing. AIGA memberships are issued by the national AIGA organization, are portable to any chapter across the US, and can be billed quarterly. Want someone to walk you through it? Contact us locally at membership@arizona.aiga.org.
Other Discount Opportunities
Affiliate discounts offered to members of our sister professional organizations (AAF PHX, AZIMA, AMA, and PRSA); click Tickets button for details.
Nonprofit organizations with 501(c)(3) designation may also choose the Affiliate discount level.
Students and teachers receive up to half off; choose Student/Faculty ticket level.
Five or more qualified attendees from the same organization; click the group box on the order form and receive a rebate of 10% your Early Bird / 15% Full price ticket purchase, refunded back to your credit card. Does not apply to already discounted Student/Faculty or other special offer tickets.
Become a Sponsor
A conference of this caliber at such reasonable ticket prices simply would not be possible without the generous monetary and in-kind contributions of our sponsors. Year after year, we have been honored that dedicated companies and individuals who want to demonstrate their commitment to Arizona's design community come forward to stand behind Phoenix Design Week. Sponsorship levels are available to suit any budget, from $150 to Sponsor a Student, all the way up to the prestigious Title Sponsorship, with complimentary tickets included starting at the $500 tier. If you or your company would be interested in having your name, products or services highlighted to the Phoenix Design Week audience, send a note to sponsorship@arizona.aiga.org for more information, or download the sponsorship packet available at phxdw.com. Thank you!
Sponsor A Student Donation
Enable a deserving student to attend PHXDW 2023 so they can experience what it means to participate in their greater design community. Add-on student sponsorships are $100 Early Bird / $150 Full Price and cover the ticket for students currently enrolled at at college or university in a design-related field. As a student sponsor, you can choose one (or more!) student(s) from those who apply for scholarship, or have AIGA AZ select a student for you. Your contact information will be shared with the student, or you may remain anonymous. Scroll down to the Add-On section of the Tickets selection form to choose this option. Students who wish to apply for scholarship, see the link to application form on the home page of phxdw.com.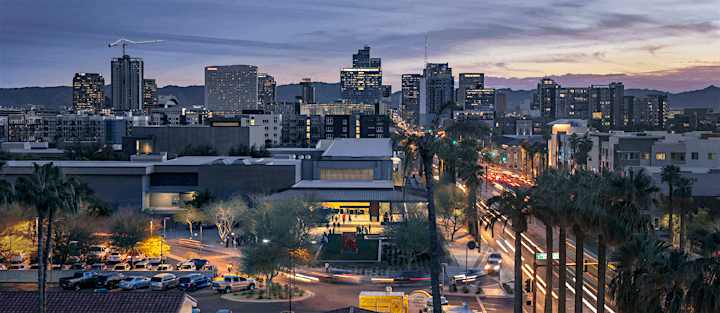 The Details
Location and Travel
The conference and breakout sessions will be held on the premises of Phoenix Art Museum in downtown Phoenix. The museum is within walking distance of hotels, entertainment and restaurants, has an adjacent stop on the METRO Light Rail line at McDowell Road, and is about fifteen minutes from Phoenix Sky Harbor International Airport. Free parking is available in the Museum lot, as well as street parking and overflow public paid garages nearby.
Land Acknowledgement
AIGA Arizona acknowledges that this event is being held on the land of the Ancestral Sonoran Desert People, stewarded today by the Akimel O'odham (Pima), Tohono O'odham, as well as the Pee Posh (Maricopa), who are the indigenous peoples of this land. We acknowledge the sovereignty of all Native Nations within the state of Arizona, and recognize our responsibility to honor Indigenous People, their culture, and their legacy as thriving contemporary communities by advocating for inclusive and diverse practices for all design-related institutions.
Lodging Information
We do not have any specific arrangements for out-of-town guests. The closest hotel to Phoenix Art Museum is FOUND:RE Phoenix, within walking or light rail distance approximately 1/2 mile away. Next closest and more economical are the Fairfield Phoenix Midtown and the Cambria, or any of the other hotels in the downtown area along the Central Avenue corridor are also within easy light rail distance.
Dining Options
Phoenix Art Museum now has a grab-n-go shop called Temporary Cafe which will be open during the conference offering quick eats. We are also now offering a pre-purchased boxed lunch (additional purchase required) from the Museum's caterer for $25 each. Look for the link on your order confirmation to place your lunch order.
Prefer to go out? Lunch breaks will be 1.5+ hours, allowing you enough time to visit one of the many restaurants within a walking, light rail, and driving distance.
Please keep in mind that ABSOLUTELY NO food or drink items – including your own water bottles, snacks from home, or takeout – are allowed inside the Museum proper, including the main stage in Whiteman Hall, the Great Hall or any of the galleries and hallways. Refreshments can only be enjoyed in the cafe, outdoors, or if we serve them to you at designated conference break areas such as Singer Hall.
Registration Information
Registration to the PHXDW Conference does not include admittance to all Phoenix Design Week events. Other standalone offsite Phoenix Design Week events scheduled from October 2–8, 2023 may have individual ticket pricing. Keep an eye on your email and the website at phxdw.com for details.
Refunds and Cancellations
There are no refunds on ticket purchases; however, you may either:
Transfer your registration to another person by notifying us no later than Friday, October 6, 2023. Your request must include your name and email address as well as that of the person who will be attending in your place. If you have purchased an AIGA member ticket, your substitute attendee must also be an AIGA member; additional higher ticket price may apply for non-members.
Request a credit for a ticket to next year's conference by notifying us no later than Friday, October 6, 2023.
Should you develop a fever, symptoms of, or test positive for COVID-19 immediately prior to or during any PHXDW event, please stay home. Contact us for a refund or credit upon verification by third-party medical testing.
If you are holding a credit or transfer from a past year, please contact us.
If AIGA Arizona, the venue, or world events cause us to cancel the event altogether, we will issue refunds on all tickets less any nonrefundable fees or costs out of the control of AIGA Arizona.
Speakers and Schedule
While we make every effort to confirm our speakers' participation prior to the event, we cannot guarantee that the published speaker list or schedule will be exactly as presented online. Speakers and schedule are subject to change without notice. Speakers' presentations and viewpoints are their own opinions and do not necessarily reflect those of AIGA Arizona. We are not responsible for the content of every presentation; please be aware that adult language, visuals or topics may be included.
COVID-19 Notice
While AIGA Arizona and the Museum continue to take necessary measures consistent with CDC and local guidelines to mitigate the risk of exposure, unfortunately COVID-19 is coming back around, and we cannot guarantee that you will not be exposed to COVID-19 at any Phoenix Design Week event. By attending these events, you acknowledge and assume this risk. We encourage you to do your part to keep our community safe: get vaccinated, test before you attend if you have concerning symptoms, wear a mask if you feel more comfortable, and be respectful of your fellow attendees. Thank you.
IMPORTANT INFORMATION
Your registration constitutes permission to use photos, audio and video recording taken of you at the events for promotional and educational purposes in connection with Phoenix Design Week and AIGA Arizona in perpetuity, and places you on the master Phoenix Design Week mailing list. At any time, you may opt out of the mailing list, or withdraw your consent in writing to AIGA Arizona. Attendee list may be provided to Title Sponsor for promotion.
AIGA Arizona has adopted the AIGA Code of Conduct with regard to all conference activities. We reserve the right to refuse admittance for violations of this Code, or other unlawful or disruptive actions. Any concerns should be addressed to the AIGA Arizona president. Phoenix Design Week is a non-profit event founded by Lost Creature in 2009, now wholly owned and presented by AIGA Arizona, a 501(c)(3) organization. This event would not be possible without our sponsors and volunteers who lend their time and effort.
Interested in being an AIGA | Phoenix Design Week sponsor? Contact us (sponsorship@arizona.aiga.org) for more information.